Both Highs and Lows are important, keep them as you please!
---
Last update of the month: Both Highs and Lows are important, keep them as you please!
This week we bring you with two new brush modes: Highest and Lowest, great for making peaks and valleys and for not overwriting another heigher/lower area.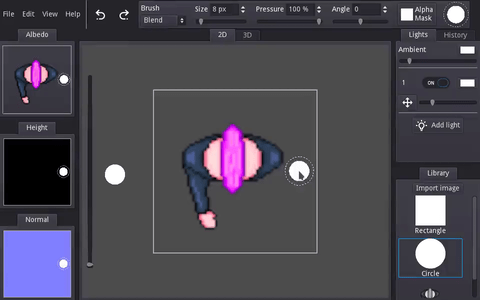 Whether you're in the highs and your work is done or you're in the lows and accidentally pressed Alt + F4, we got you covered! Now you can save your work easily by issuing Ctrl + S or pressing the File -> Save menu button, which will save both height and normal maps in the same folder as the loaded albedo texture, suffixed with _height and _normal. Also, if you have unsaved work and try to close the window, a confirmation dialog will appear.
This only works on the Desktop builds, since web browsers don't lend applications access to the file system, so I highly recommend you use Raise and Shine on Desktop!
---
Now, Raise and Shine is getting every nicer to use, and we are 2 months in development =]
I hope you like it as well, and encourage you to send ideas and suggestions, report bugs you find and share your creations at the discussion board! Also, consider sharing it with the world and buying the Desktop builds to support the development of this awesome tool!
See you all next week!
gilzoide
Files
RaiseAndShine_web.zip
Play in browser
RaiseAndShine_win32.zip
13 MB
RaiseAndShine_win64.zip
13 MB
RaiseAndShine_linux32.zip
13 MB
RaiseAndShine_linux64.zip
14 MB
RaiseAndShine_osx.zip
26 MB